1992 Land Rover, Range Rover Classic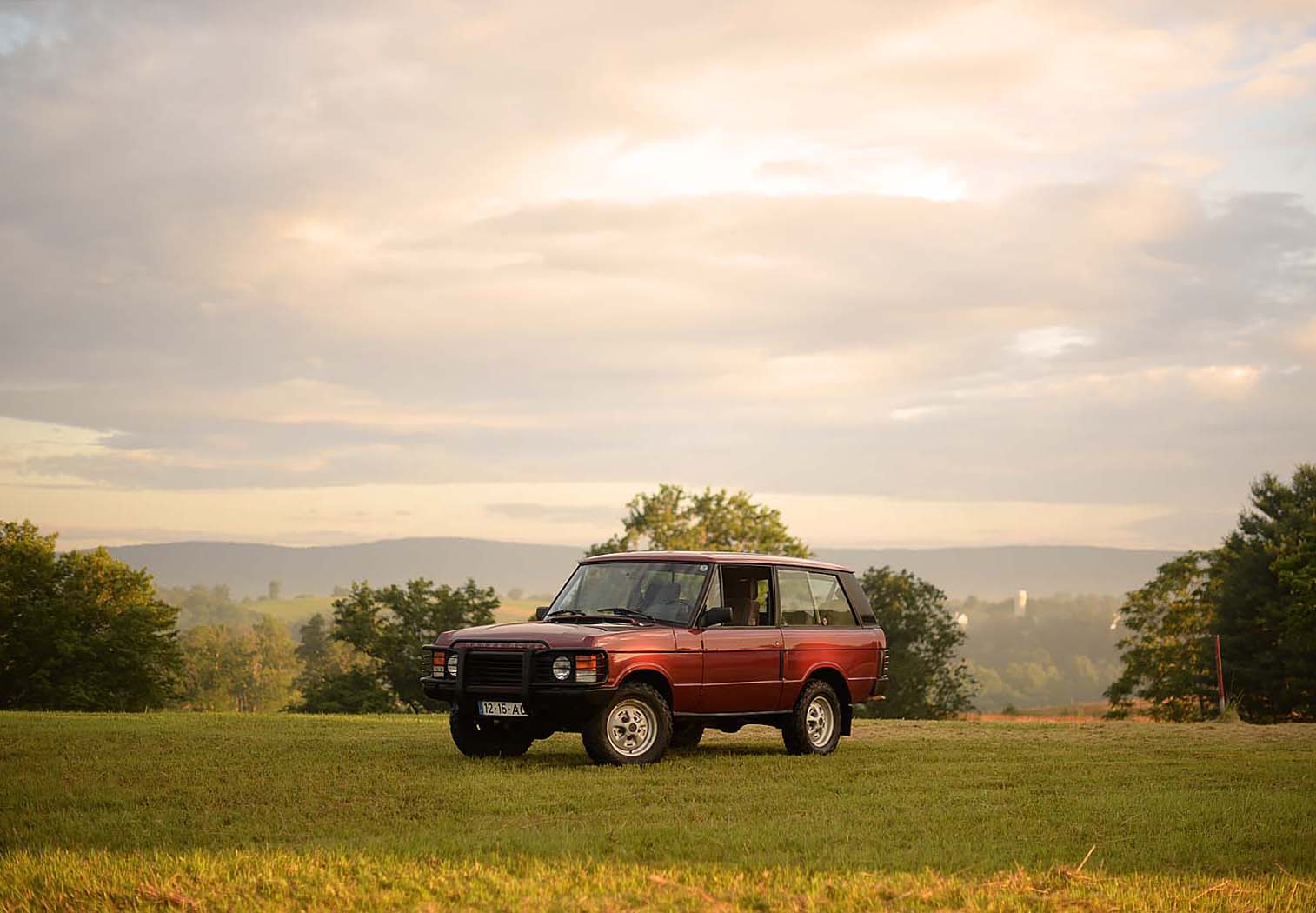 1992 Land Rover, Range Rover Classic
Status: Sold to Richard B., of Tappahannock, VA
Manufactured: Great Britain
Imported: Benavente, Portugal
Engine: 2.5L Turbo Diesel
Transmission: 5-Speed Manual
VIN: SALLHAAN8JA621485
Foxmount Farm. Formally Kent Farms. Where to start? Mark gave me an address where I should meet him. I mentioned we were preparing to photograph our 1992 Land Rover, Range Rover Classic, and he offered up his property. Unassuming though he is, I anticipated arriving at a house. A house with a mailbox, a driveway, and maybe a spot for a horse or two. The GPS took me down a small lane, past garages and maybe an old schoolhouse? From there, the road just… ended. Not fast. The weeds started poking through the pavement and quickly reached the Range Rover's front bumper. The final clue I was in the wrong place was the wagon, piled high with wood scrap, blocking the road. End of the line. But the little red dot on the map still hovered mysteriously somewhere ahead.
Making my way back on the main road, I spotted a long driveway that theoretically pointed the right direction. I made my way past the sign for Kent Farms and slowly pulled down the drive. I was in the wrong place for sure. Beautiful stables, barns, garages, and homes all perfectly situated under towering old trees, the grounds as stunning as the buildings themselves. I wandered, still looking for the red dot. Frustrated, I flagged down a groundskeeper in his truck. "Where's Mark's house?" I pleaded. "You're here," he replied flatly. Oh.
Kent Farms was built by the late Jack Kent Cooke. He has a Wikipedia page; I'll spare you the biography here, save for one detail: He owned the Washington Redskins for almost four decades, taking them, along with Coach Joe Gibbs, to Super Bowl Fame in 1982, 1987, and 1991. The Stadium that once bore Jack's name still stands, and his legacy in this area is still largely linked to the franchise and his charity, the Jack Kent Cooke Foundation, which focuses on advancing and making education possible to promising students in need.
Mr. Cooke had many hobbies, however, and horses were one of them. Kent Farms was home not only to Jack, but also his thoroughbred horses and, for some time, the headquarters for the Redskins operations. Mark was kind enough to let me photograph this Range Rover Classic on the grounds. The two-door truck hails from Benavente, Portugal, where he comes from the hands of a true Land Rover enthusiast: Parked alongside it in the garage was a Defender 90, a Series-III, and a 300Tdi Discovery with 98 kilometers (98. Just 98). What was missing from the stable was his P38 Range Rover, which was undergoing a full restoration. To continue funding the restoration, the Range Rover Classic had to go.
We're happy to welcome it home here to Virginia. The two-door Range Rover Classic was never sold in the U.S., and the U.S. never received any of Rover's diesel trucks. Back in the '90s it might have seemed right at home on the property, close to Redskins-Red though it is. Today, it still fits right in.
Driveline. 2.5L VM Turbo Diesel mated to 5-speed manual transmission with high/low range transfer case. Truck starts effortlessly and drives through all five gears nicely. The diesel does not emit any visible smoke at idle or underload. The VM moves the truck up to about 80mph in this configuration. Truck has 113,000 miles on it.
Exterior. The Trocadero Red paint is original and presents beautifully despite smaller scrapes and a few minor dents. The truck is rust free; the product of a long life lived stored safely indoors. Taillights and headlights are covered with guards. Truck wears rostyle steel wheels clad in mud terrain tires. A small plaque mounted under the passenger side-front bumper is a remnant from old Portuguese laws requiring an exterior identifier of the vehicle's registered town. The chassis is clean and shows
Interior. The tan fabric upholstery is original and intact. It shows wear in a couple minor areas but still is firm and untorn. Lights, gauges, and signals all work. Truck has power windows; both work. Rear cargo cover is present and intact. Aside from the radio and an inclinometer, the interior is original and intact. Air conditioning blows cold and heat works nicely. Front and rear windshield wipers work, as do dome lights and other gauge back lighting.
Interested? Contact Us for more information.
info@cwclassics.com
sold out